With the emerging popularity of generative AI technologies and LLMs, Yseop recognized the opportunity to address critical challenges in security and compliance, and incorporate a multimodal automation approach specifically suited for BioPharma and other highly regulated industries. Knowing there's a need for more secure content automation solutions in regulated industries, we're excited to share the launch of Yseop Copilot. A digital colleague for scientific writers, Yseop Copilot leverages pre-trained generative AI models (LLMs) specifically suited for the BioPharma industry. 
In this blog post, we'll address the key differences between Yseop Copilot and traditional LLMs, such as ChatGPT.
ChatGPT and LLMs
In recent years, the emergence of advanced language models such as ChatGPT has revolutionized the way we interact with artificial intelligence. These models are capable of generating human-like responses and have found applications in various domains, such as creative industries and IT. However, when it comes to regulated industries, like life sciences, where compliance and accountability are of utmost importance, ChatGPT falls short. 
As Samsung recently experienced when sensitive data leaked via ChatGPT, language models are not risk free across your business operations. The potential for sensitive or public information leaking is high – something regulated industries cannot afford to face. Additional limitations of ChatGPT include: 
Harmful and biased answers, along with inaccurate content 

Lack of understanding context, common sense and emotional intelligence 

No auditability, opaque models, and not fit for data-to-text automation 

Lack of domain expertise to navigate complex regulatory landscapes
Solution for Regulated Industries Need
Compared to ChatGPT and LLMs, Yseop Copilot is a powerful automation tool available to scientific writers, using LLM for content generation in a secure and seamless way – all pre-configured for BioPharma. Hosted in a fully secure environment, Yseop leverages a variety of data-to-text (symbolic AI) and text-to-text (pre-trained open source LLM) techniques for the most cohesive and intelligent content automation process available. 
The digital colleague is GxP compliant with full auditability and users have control and pre-configured settings available for use immediately. Overall, Yseop Copilot solves data security concerns, while enabling automation for non-clinical and clinical documents. This is a significant leap forward for life sciences firms seeking to automate processes and empower scientific writers to be more strategic in a closed, secure environment.
Ultimately, Yseop Copilot is a multi-model platform that combines the dependability of symbolic AI with the flexibility of a pre-trained open source LLM.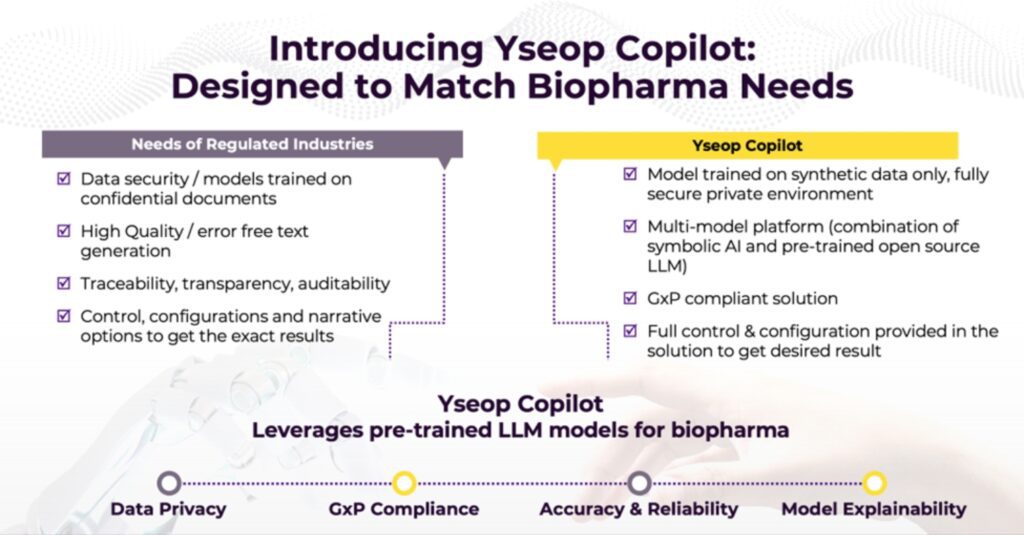 End users have complete control and configuration to get the desired results. Yseop Copilot is empowering the future of scientific writing by creating the world's most trusted digital colleague. To learn how life sciences firms are reimagining the future of their scientific writing workflows with Yseop Copilot, start your free automated content generation trial here. To learn more about how we can help your organization, please contact hello@yseop.com.