Yseop Introduces, Augmented Analyst 2.4
REGISTER TO THE 2.4 AUGMENTED ANALYST WEBINAR TO DISCOVER MORE – CLICK HERE TO REGISTER
With the newest 2.4 release of Augmented Analyst platform, Yseop's customers can take advantage of some amazing new features to enhance report automation.
Here are some key features that you will find in the new release:
To provide more flexibility in generating all the insights you need, you can now create your own texts with variables and create tables showing any dimensions either in columns or rows, directly in the Studio.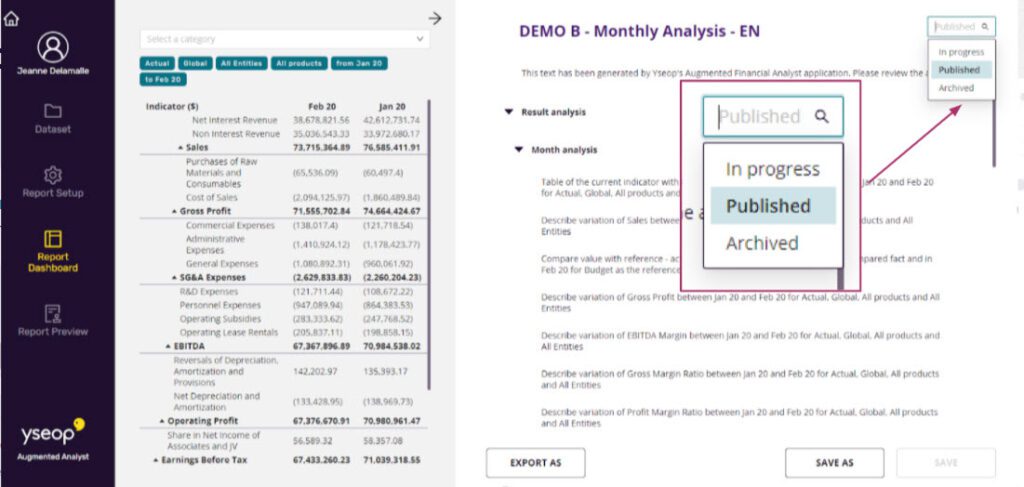 With this new version, we introduce the notion of automation packs that will help you get started  quickly with any new use case. Automation packs provide preconfigured business content including ontology, preconfigured report models, list of specific intentions, and tailored Studio features. On the same platform, you can have as many automation packs as you need, and you can manage user rights for each of the automation pack independently.
For Augmented Financial Analyst, the Corporate Finance automation pack has been improved. You can generate more in-depth insights by analyzing groups of contributors when describing values, allowing you to generate more great insights easily.
For Augmented Medical Writer, with the Patient Narratives automation pack, you can now filter the data to provide more specific insights, and you can export patient narratives in batches.